Kobe University Centennial Hall
Global Education Center
1F
101A
Lecture Room
101B
Lecture Room
102
Lecture Room
Common Room
Multipurpose use for global interaction
2F
Director's Office
For office use, faculty meetings, chief meetings, classroom meetings, business meetings and for reception use
International Exchange Division
Office
Counseling&Advising
Counseling Room
BIRD'S EYE
Learning Commons / Information and materials on international student education and exchange etc.
3F
301~304
Seminar Room
Computer Room
For use in lectures when using computers, and computer system management
Media Room
Learning Commons / For use in lectures when using media, and audio/video editing
Faculty Office
Collaborative research room
Faculty Room 1-8
Faculty Office
International Convention Center (Shindai Kaikan)
1F
Exhibition Hall
Exhibits of Kobe University's history and materials about haiku and Seishi Yamaguchi
Kobe University Archives
Management and administration of materials related to Kobe University's history
Seishi/Hatsujo Haiku Library
Browsing room for Seishi Yamaguchi and hatsujo haiku
2F
Rokko Hall
Venue capacity: 300. Equipment: 84 desks, 300 chairs.
Greenroom (Teacher's Room)
Waiting room
3F
International Affairs Planning Division
Office for international planning
Conference Room B
Venue capacity: 25. Equipment: 13 desks, 25 chairs.
Conference Room C
Venue capacity: 12. Equipment: 6 desks, 12 chairs.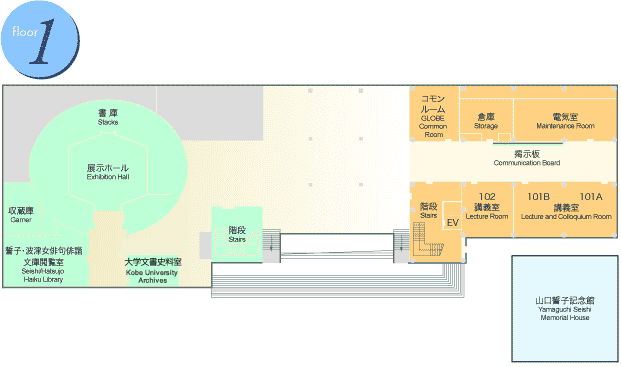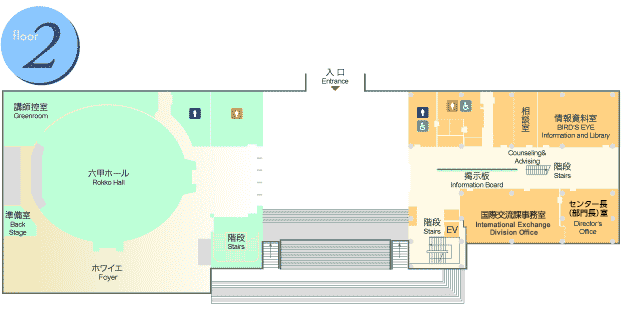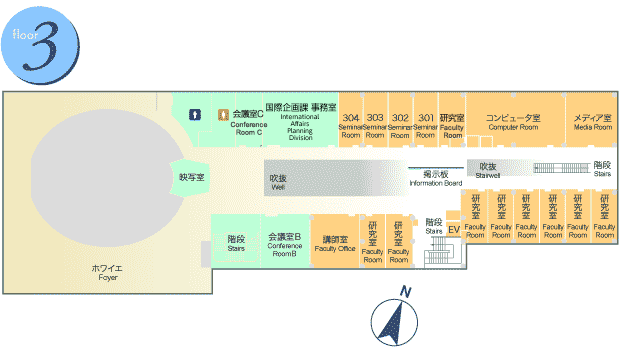 Yamaguchi Seishi Memorial House
| | |
| --- | --- |
| Japnanese Style 8 Tatami Room | Honorary meetings / Tea ceremonies / Traditional Japanese music concerts / Welcoming of honorary guests / Introductions to Japanese culture for international students |
| Japnanese Style 6 Tatami Room | Demonstrations of ikebana /Haiku gatherings / Welcoming of honorary guests / Introductions to Japanese culture for international students |
| Japnanese Style 4.5 Tatami Room | Preparatory and waiting rooms / Introductions to Japanese culture for international students |