KOBE JAPANESE PROGRAM JANUARY SESSION

2022 (ONLINE)

Discover the Kobe Area and Japan-Australia つながり!


ATTENTION: Application Deadline Extended to Monday 8th November 2021

The Kobe Japanese Program (KJP) January Session is designed for undergraduate or graduate students with upper elementary Japanese language skills.

The focus of the course is Japanese Language and Area Studies, including culture and society, based on the Kobe and Hyogo area and its links with Australia.

This year the course will be conducted entirely online, utilizing various live teaching methods, and small class size to provide the most interactive and personal learning experience possible.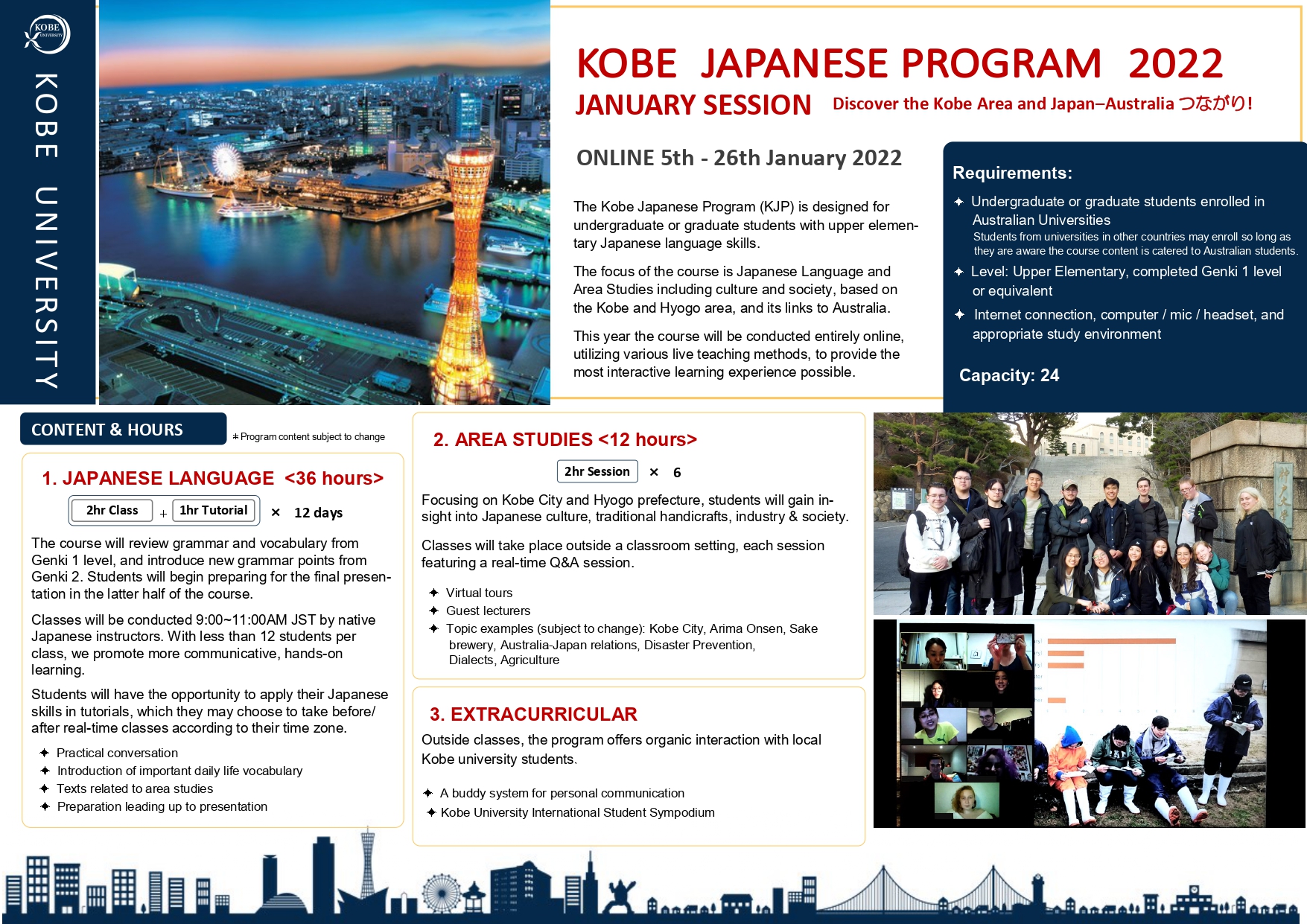 Program Brochure / Schedule (PDF) 
Date

5th - 26th January, 2022 (3 weeks)

Level

Students at Upper Elementary level of Japanese (completed Genki 1 level or equivalent).

Program Content and Hours

1. Japanese Language (36 hours)

 2 hour Classes x 12 days + 1 hour Tutorials x 12 days

2. Area Studies (12 hours)

 2 hour Sessions x 6 Sessions

3. Extracurricular Activities

Fees

55,000 JPY ≃ 700 AUD

Fees include tuition and course material.

Placement is confirmed upon payment of tuition fee, by bank transfer, by 19th November 2021.

Details

Please see Program Brochure for details regarding Program Schedule, Assessment Criteria, and Transcript/Certificate.
Application
Application Deadline

Sunday, 31st October 2021 → Monday, 8th November 2021

Application Documents

Please send the following application documents by email.

2. Copy of Student ID card

3. Photograph (shoulders and above)

Enquiries/ Apply to

Kobe University Center for International Education

Tel: +81-78-803-5265 Fax: +81-78-803-5289

E-mail: cie-winter[AT]edu.kobe-u.ac.jp ※Please change [AT] to @.
Important Dates

| | |
| --- | --- |
| Applications open | 1st October, 2021 |
| Application close | 31st October, 2021 → 8th November 2021 |
| Offer of acceptance | Early November, 2021 |
| Payment Due | 20th November, 2021 |
| Program starts | 5th January, 2022 |
| Program ends | 26th January, 2022 |
Enquiries
Kobe University Center for International Education
Tel: +81-78-803-5265 Fax: +81-78-803-5289
E-mail: cie-winter[AT]edu.kobe-u.ac.jp
Kobe Japanese Program January Session 2021 was held
「神戸日本語プログラム 1月セッション2021 Discover the Kobe Area and Japan- Australia つながり!」を開催しました