Due to concerns about the coronavirus transmission, we have decided to cancel the summer program in Japanese language and culture 2020, originally scheduled from July 7 to July 17, 2020.
We apologize for any inconvenience this may cause. (20200327)
This two-week 'Kobe University Summer Program in Japanese Language and Culture' is aimed at students who are studying Japanese at overseas universities, with which we have academic agreements. This program aims not only to increase competency in the ability to use Japanese language across the four major skills of reading, writing, listening and speaking but also to deepen understanding towards Japanese society by focusing on current issues in Japan using Japanese language. This program includes activities like an excursion to cultural sites and exchange activities with Kobe University for further understanding of Japanese society.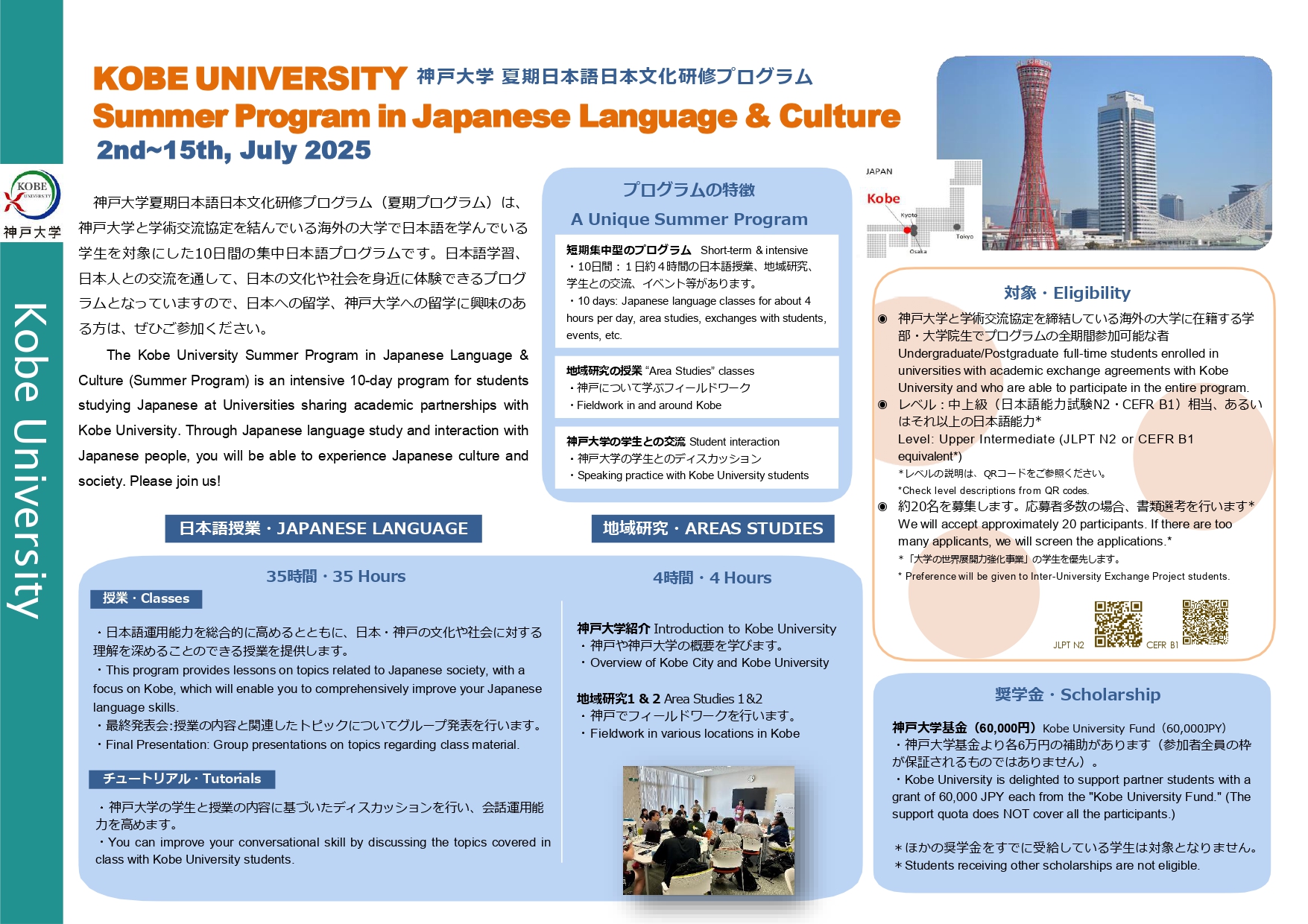 Program Pamphlet / Schedule (PDF) 
Summer Program in Japanese Language and Culture 2020 (Last updated: December 17th, 2019)
Date

July 7th - 17th, 2020

Capacity

35 students

Eligibility

Undergraduate or postgraduate students who have also attained a level of Japanese equivalent to Intermediate or Upper Intermediate level (JLPT N3-N2) or above.
Students who are registered at an overseas university with which we have an academic exchange agreement (This is an invitation program)

Program Contents & Hours

1. Intermediate - Upper intermediate level Japanese language (total 36 hours)

Focus on current issues in Japan (education, society, language etc.)
Increase proficiency in using Japanese language by providing opportunities to use Japanese in real situations, covering the four skills of reading, writing, listening and speaking.

2. Excursion to cultural sites in Japan

3. Exchange activities with Kobe University students

4. Task based assignments

Fees

50,000 JPY

Program participation fee 50,000 JPY will cover the part of the accommodation fees. Kobe University will bear the rest of accommodation fees, costs related to class tuition fees and learning materials.
Participants will be responsible for travel expenses to/from Japan, daily living expenses (food and travel) and purchase of overseas travel insurance (illness, injury and indemnity).

Accommodation

Kobe University will arrange a hotel single room for all participants.
How to apply
Application Deadline

Friday, May 15th, 2020

Application Documents

Please send the following application documents through your home university.

1. Application form (with photo)(PDF) (Excel)

3. Copy of Passport

Apply to

Please submit the application documents through your home university
Important Dates
| | |
| --- | --- |
| Application deadline | May 15, 2020 |
| Acceptance announcement | Late May, 2020 |
| Hotel check-in | July 6, 2020, 15:00- |
| Program starts | July 7, 2020 |
| Program ends | July 17, 2020 |
| Hotel check-out | July 18, 2020 |
Enquiries
Kobe University Center for International Education
Tel: +81-78-803-5265 Fax: +81-78-803-5289
E-mail: cie-summer@edu.kobe-u.ac.jp
Video by Public Relations Division, Public Relations Department, Kobe University
Kobe University Summer Program 2017 ~10 Days in Kobe 2017/07/24
CIE Original Video
Kobe City - History and Internationalisation 2021/01/03
Kobe City and the Great Hanshin Earthquake 2021/01/03
View Summer Program Schedule(PDF)
Download Application Form (PDF)  (Excel)